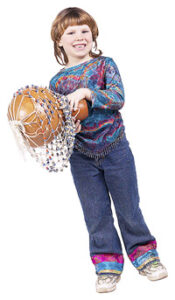 Roots of Rhythm is a fascinating, ground-breaking, hands-on exploration of the world through drums and drumming.
Developed in conjunction with the Percussion Marketing Council and the International House of Blues Foundation—and supported by NAMM, the International Music Products Association—the curriculum is written by professional percussionist and renowned ethnomusicologist, Dr. Craig Woodson. At its core, the curriculum teaches students of all ages about world cultures by encouraging them to make and play drums while demonstrating the role that music has played in human development and migration.
Not only can the content in Roots of Rhythm be used to augment general classroom activities with a variety of music and art projects, the skills and lessons supplement and support current state curriculum standards in core subjects, such as Social Science, Science and Math, Visual and Performing Arts, English Language Arts, and Life Skills.
With its cross-curricular, multi-cultural, arts and academics approach, Roots of Rhythm feeds the needs of the whole child, adding deeper meaning to core skills and encouraging essential developmental skills such as creative thinking and problem solving, art appreciation, tolerance, teamwork, self-discipline, and positive self-expression.
Best of all, Roots of Rhythm is fun! Whether used on its own or as a curriculum enhancement, Roots of Rhythm gets students actively engaged in the learning process.
Download the complete Introduction to Roots of Rhythm.