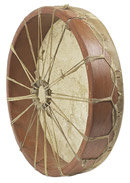 Here, as downloadable PDF documents, are the 16 Fun Sheets to accompany the 16 Lessons of the Roots of Rhythm curriculum.
Each Fun Sheet has descriptive paragraphs based on chapters in the Teacher's Curriculum. The Fun Sheets also might include maps, photographs, or diagrams that reinforce the lessons. Fun Sheets can be used as stand-alone projects or as lesson review.
There are five types of Fun Sheets:
Decorate Your Instrument: These are short art projects that students complete with pencils and markers.
Make and Play Your Instrument: Using common materials the student makes a simple musical instrument and then composes rhythms to perform.
Find Facts and Opinions: After reading the paragraph, students determine which statements are based on facts or opinions.
Fill It In: Students fill in statements and complete a crossword puzzle based on the material provided.
Compare and Contrast: Using a Venn diagram, students compare two instruments.
For Fun Sheet Answers for Roots of Rhythm lessons 1 through 10.
For Fun Sheet Answers for Roots of Rhythm lessons 11 through 16.